Yoga mats are like magic carpets.
Each time we step on them they whisk  us to some magical place.
Yet the places we go, aren't some faraway fantastical land, they are the places within us.
They are the mysterious world of our inner being and each time we step on our magic carpet we discover something new and exciting.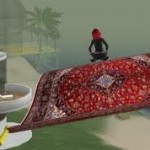 ---