As we head into the New Year and begin to think about New Year resolutions and Intentions.
Imagine yourself packing your bag to go on a new adventure.
Think about those things you'd like to leave behind,which serve no purpose in your new adventure as they may hinder your experience;
anxiety, fear,  negativity, stress, guilt, frustration, helplessness, sadness, irritability, hurt, insecurity, exhaustion, imbalances.
And about the things that you'd like to take with you to enhance your journey;
HAPPINESS, DIGNITY, RESPECT LAUGHTER, PEACE, PATIENCE, POSITIVITY, FLEXIBILITY, TRUTH, SELF-BELIEF, FAITH, COURAGE, EMPOWERMENT, CONFIDENCE, ABUNDANCE, INSPIRATION, MOTIVATION and LOVE.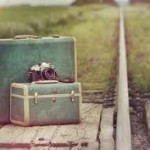 ---