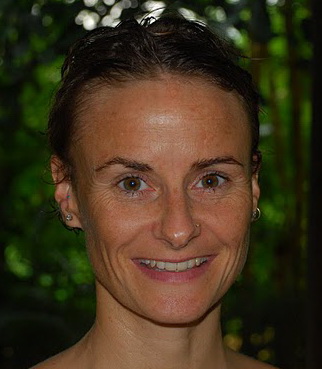 I was first introduced to the benefits of Yoga whilst pregnant with my first child 10 years ago. A dedicated practitioner, I became a certified teacher  7 years ago to teach adults, child and prenatal Yoga.
I am originally from the U.K my last home in England was in Brighton. I moved to Thailand 5 years ago with my husband and 2 children Esme and Phoebe in 2006, living in Koh Samui for 2 years. I taught and shared my studies extensively around this island teaching at Fourseasons, Spa Samui, Health Oasis and Absolute Yoga. Mainly working in detox.
We moved to Chiang Mai in January 2008 expecting my third child I am  teaching in and around the city.
My style of yoga is a synergy of  influences from my studies and teachers, over the last 7 years, my main influences are Hatha and Anusara Yoga.
Each class fuses the essential aspects of yoga; postural alignment, breath work and meditation, to create an integral and authentic practice, creating a safe, supportive and playful environment, I encourage you to self-observe and delve within to discover your inner-self and experience your own Yoga.
I am currently writing my first book which brings together my passions of pregnancy, yoga and motherhood.
A busy mum to 3 young children I live my Yoga on and off the mat and let the spirit of Yoga flow through my day and family life.
---