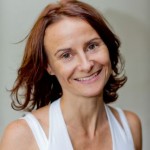 Welcome. Thank you, thank you, thank you for visiting my website.
Yoga is a big part of my life and each day it teaches me more about myself. As a busy mum to three daughters, yoga gives me the opportunity to reconnect with myself.
My journey on the mat first began in 1999 and since then I have studied yoga in the UK, India and Thailand, where I lived for six years with my family.
There I shared my passion with the local community where I also taught at The Four Seasons, Spa Resorts, Absolute Yoga, and numerous Yoga Studios, and I was instrumental in pioneering prenatal yoga to expectant mothers in Chiang Mai, Northern Thailand.
My style of yoga is a synergy of  influences from my studies and teachers, my main influences are Hatha and Anusara Yoga. Fusing the essential aspects of yoga; postural alignment, breath work and meditation, into my classes I believe I create an integral and authentic practice whilst creating a safe, supportive and playful environment for my students to self-observe and delve within to discover their inner-self and experience their own Yoga.
I was inspired to write my first book whilst pregnant with my third baby, because I wanted to deepen my connection with my unborn child, through the mind, body and breath, after all we would be spending the nine months living and breathing together, so it only seemed natural to include my baby in my yoga practice.
It was here I experienced the true essence of Prenatal Yoga and my book The Yoga of Pregnancy was born.
Through my practice I learnt listen to my intuition, honour my body and find ways to use my breath to relax; surrender and be present. Gifts which I took with me into labour and the birth of my daughter.
I remember being on all fours roaring like a lion, rotating my pelvis and mediating on my breath. I consciously felt each sensation of the surge ripple through me. I was in the second stage of labour and I was living my Yoga.
Accepting each powerful surge as a gift I chanted the mantra 'Each surge brings my baby closer to me,'and meditated upon my breath to help me soften, relax and surrender and set my intention to have a labour of love.
Directing my breath down to my pelvic floor I mindfully released any tension I was holding onto. I closed my eyes and visualized my baby girl making her journey down the birth canal and into the world. Our bodies were uniting.'
Following my experiences of giving birth to my daughters, I believe giving birth to be a spiritual experience if we can learn to listen to our instincts, trust, have faith and surrender to the occasion and the practice of yoga and meditation during our pregnancy can help us to do this.'
The Yoga of Pregnancy unites my two deepest passions; motherhood and yoga.
I am now based in the UK and I share the wisdom of my studies, experiences and understanding, to expectant women; teaching classes to yoga teachers and pregnant women via workshops and retreats.
I am also a registered Occupational Therapist, with a post-graduate diploma in Sensory Integration and an Advanced Practitioner in Sensory Integration. I currently work with children with Autism both high and low functioning, and complex needs.
As a busy mum I believe I live my Yoga on and off the mat and let the spirit of Yoga flow through my daily and family life.
The Yoga of Pregnancy is available here
The accompanying Yoga of Pregnancy DVD is published by Yoga Body Naturals (Click on 'Categories' & then 'Books and DVDs').
I am a Senior Yoga teacher registered with Yoga Alliance
---